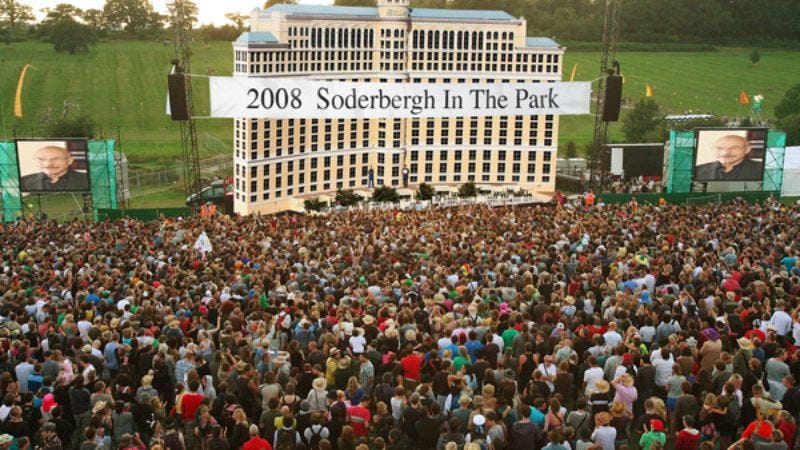 NEW YORK—In what has become a summer ritual for thousands of New York City theatergoers, the Independent Soderbergh Company will return to Central Park's Delacorte Theater this month to stage another free production of one of the Great Bergh's famed works.
Coming off the success of last summer's open-air performance of the crowd-friendly Erin Brockovich, the ISC has gone with an admittedly unorthodox choice this year, deciding on Steven Soderbergh's 21st-century comedy Ocean's Twelve. Although it is widely considered one of Soderbergh's minor works, ISC creative director Kara Fletcher defended the selection, claiming that there is something to be learned from all of Soderbergh's pieces.
"The mission of Soderbergh in the Park has always been to bring Soderbergh to the masses," Fletcher said. "And that includes even his more inaccessible material. Those who are skeptical will be pleased to find that many of the traditional Soderberghian themes are present in Ocean's Twelve: anger, betrayal, despair, the travails of cool wealthy people who plan crime capers, and brotherhood."
The ISC's production of Ocean's Twelve, which opens tonight and runs through Aug. 28, stars Patrick Stewart as the suave Danny Ocean and Kevin Kline as his main cohort, Rusty. Claire Danes, who portrayed Erin Brockovich last year, returns to the outdoor stage as Danny's wife, Tess. The remainder of the cast will be rounded out by more than 100 New York theater regulars and nearly 150 extras, as well as Casey Affleck, who will reprise the role he played in the original production.
According to Kline, even the most seasoned Soderberghian actors were nervous about tackling Ocean's Twelve.
"Soderbergh is never easy," Kline said. "I remember when I first saw Ocean's Twelve. I didn't get why the jokes were funny, it was way too long, and the plot was so incomprehensible that I nearly walked out of the theater."
"But since then, I have come to appreciate the scope of the piece," he added. "Though I admit that even after extensive study, the ending still remains a mystery to me."
The play also presents a challenge for director Steven Todd and set designer Molly Durang, as the script calls for quick scene changes that are both out of chronological order and set in multiple exotic locations, including Monaco, Paris, Rome, Chicago, and Los Angeles. In addition, Todd promised that the house-lifting sequence—in which the characters lift a mansion two inches off the ground by inserting compressed air into the foundation via a submarine—will remain true to the original.
"I am also happy to report that our props department has created a perfectly detailed hologram of a golden egg," Durang said.
Debuting with a free showing of Sex, Lies, And Videotape in San Francisco's Golden Gate Park in 1997, Soderbergh in the Park has since become an American institution. This summer alone will see nine classic works of Soderbergh produced at more than 200 outdoor theaters across the nation, as an estimated 3 million theatergoers lay out blankets, sip some wine, and watch Full Frontal, Out Of Sight, and The Good German under the stars.
"For many people, the park is where they are first exposed to Soderbergh," Fletcher said. "The outdoor setting fosters a more accommodating atmosphere for those who, under more traditional circumstances, are unwilling to give Soderbergh a chance."
At press time, hundreds of people had already formed a line to receive their free tickets for tonight's show, including many high school and junior high students who will be studying Soderbergh in the upcoming academic year.
"I've started a few Soderbergh movies, but I can never get through them," 16-year-old Jennifer Martin said. "The dialogue is hard to understand, and the stories are confusing. But I came out to the park last year and saw Solaris, and maybe it was the trees, the feeling of the summer breeze, or that they actually launched multiple women into space, but I thought it was pretty cool."
Added Martin: "Nathan Lane was great."